PETER DYBALL (BE Mech, MBA)
Founder and Managing Director
Peter brings over 30 years of relevant, professional experience and knowledge to companies in the resources, construction and engineering sectors. His background as a mechanical engineer provided a hands-on foundation for subsequent engineering, construction, maintenance and project management roles with complex projects in the mineral resources, steel, paper and power industries.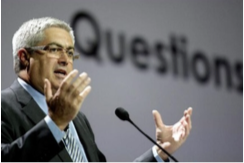 For the four years prior to founding Pit Crew, Peter held business development and strategy roles with two major national contracting organisations. In these positions he focused on strategic market planning, identification of new market opportunities, improvement of business development systems and commercial analysis as well as tendering and contract negotiations. Peter led bid teams for tender submissions across a range of resources, energy and infrastructure projects.
As well as a Bachelor of Engineering, Peter has continually enhanced his business skills by obtaining a Graduate Diploma, then a Masters of Business Administration. He is also a graduate and member of the Australian Institute of Company Directors.
Peter has also utilised his interpersonal skills, client relationship management expertise, and high level of cross-cultural understanding, in non-executive director roles with Gumala Aboriginal Corporation, specifically Gumala Enterprises Pty Ltd, Gumala Tourism Pty Ltd and ESS Gumala Joint Venture (2004-2008), and with ICC Mining Limited (2008-2014).
Pit Crew Management Consulting Services Pty Ltd was founded in 2004 to provide specialist consulting services which focus on the mining, oil & gas, heavy industry and infrastructure sectors in Australia.
Outside of Pit Crew Peter enjoys spending time with his wife and two children, hosting his own show on IPL Community Radio, competing in motor racing events, and tinkering in his workshop.